Pokemon B/W.

I'd like to trade a Vullaby for a Rufflet. The only way to get a pokedex entry for either of these birds or their evolutions is to trade with somebody else, as they do not appear at all in each other's game normally. (Rufflet is in White only)

Also, if somebody with White has a Thundurus, I'd like to borrow it just for the Pokedex entry.
_________________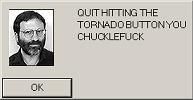 <EggWerx> MetalOverlord: Dsman and lemmayoshi will be used for taco meat, ask mo he knows me.
jleemero wrote:
Being required to learn Java for a Comp Sci MAJOR is like being required to shit on a lawnmower to be an astronaut.