Quality flood today ey?
So, tell me, what do you think of modern Captcha methods, as well as some of the new ones we're seeing nowadays.
Personally I'd say reCAPTCHA is one of the best "traditional" Captcha systems out there.
However, I don't hardly trust any traditional text-based Captchas.
I for one see great potential in image-based Captchas.
KittenAuth and ASIRRA (they're the same damn thing) are certainly personal favorites, though rather bulky.
SQ-PIX is "odd" to say the least, but if you ask me, not worth the trouble. Cute idea though.
ESP-PIX is also an interesting one, but again, a bit too much for what should really be just a quick mindless test of humanity.
Opinions?
Interesting Captchas you've seen?
Captcha related bullshit humor?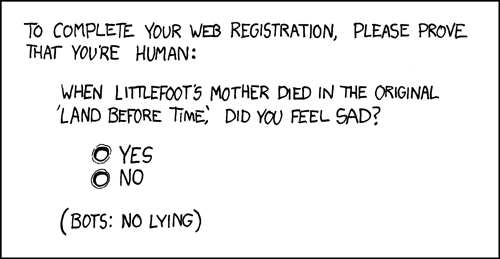 Comic a lot of you were considering posting up until this line?
Yup.